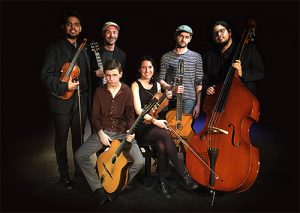 A Barcelone, le jazz manouche est flamboyant. En voici la preuve avec Swingeneris, un groupe venant de la EMMCA (l'école de musique  L'Hospitalet de Llobregrat) et composé de musiciens d'horizons et d'origines différentes. Leurs points communs en revanche; ils sont passionnés par la musique de Django Reinhardt et ont découvert grâce à ce style tout un univers à explorer et un espace pour évoluer en tant que musiciens.

Line-up
Jesús González, violon
Isabel Vila, violon
Eduard Mansergas, guitare et chant
Guillaume Chambellan, guitare et chant
Camil Arcarazo, guitare
David González, contrebasse
Samedi 13 mai @16.30
---
In Barcelona, the gipsy jazz is flamboyant. The evidence? The Swingeneris, a band coming from the EMMCA (the music school of L'Hospitalet de Llobregrat), made up by musicians of different origins and backgrounds. But they have found a commun ground, their passion for Django Reinhardt's music, and, thanks to this music style, a whole universe to explore, a endless way to progress as musicians.
Members:
Jesús González: violin
Isabel Vila: violin
Eduard Mansergas: guitar and sing
Guillaume Chambellan: guitar and sing
Camil Arcarazo: guitar
David González: double bass
Saturday 13th at 4.30 p.m