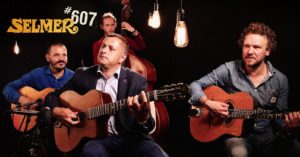 Après 2 albums en 2008 et 2010, l'élite de la guitare Jazz Manouche se réunit à nouveau autour de la mythique guitare Selmer n°607, fabriquée il y a 70 ans tout juste et identique au modèle utilisé par Django Reinhardt. Les solistes Adrien Moignard, Rocky Gresset et Noé Reinhardt se réunissent à Liberchies. Le principe reste identique : même section rythmique, même studio d'enregistrement, chaque soliste aura 2 titres sur la Selmer #607 pour exprimer tout son talent d'improvisateur et faire sonner cette guitare de légende comme jamais.
Line Up
Adrien Moignard
Rocky Gresset
Noé Reinhardt

Samedi 13 mai @ 19.15
---
After 2 albums in 2008 and 2010, the best of Gypsy Jazz guitar gets togheter about the mythical Selmer n°607, the guitar made 70 years ago, that is also the same model used by Django Reinhardt. For this new edition, the soloists solistes Adrien Moignard, Sébastien Giniaux, Rocky Gresset and Noé Reinhardt have welcomed the young and talented Antoine Boyer, the rising star of acoustic jazz and classic French guitar. The principle remains the same: the same rhythm section, the same recording studio; each soloist will have two songs to play on the Selmer #607 and show his talent as improviser, making this legendary guitar express all its extraodinary potential.
Members:
Adrien Moignard
Sébastien Giniaux
Rocky Gresset
Noé Reinhardt
Antoine Boyer
Saturday 13th at 7.15 p.m.